This April, the MSO Division will be proudly supporting Autism Queensland by going blue for autism!
We all have challenges in our lives, but for people on the autism spectrum these challenges are often with things we take for granted like communicating, making friends, or knowing how to behave appropriately. They are many and varied, and different for each person.
No two people on the spectrum are the same – each person has their own way of seeing the world, which makes them interesting and unique.
The MSO Division will be holding a few blue-themed fun events throughout the month, so please help us hit our fund-raising target by participating and helping raising awareness and money for Autism Queensland to help them continue their work in supporting people on the spectrum to live a life of participation, opportunity and choice.
Let's Go Blue for Autism! #GBFA
My Updates
GoBlueQ Trivia Winner - Quiz Assurance Specialists
Wednesday 28th Apr
So the inaugural GoBlueQ Trivia Quiz was run and won today by the Quiz Assurance specialists. We had over 20 teams participate and all for a great cause.
Share
Thank you to my Sponsors
Crime Doesn't Play
Tim Tsicalas
Karin Muller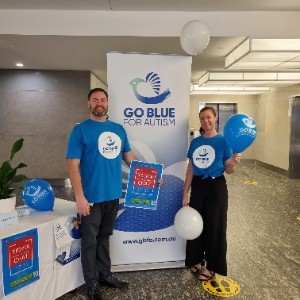 Lachlan Tristram
Lynette Margaret Melcer
Jackie Mcwha - Stella Squad
Taking Care Of Quizness
Subathra Harishanker
Anonymous
Emma Caruso
Sara Mcgregor
Know Eye Deers
Lettuce Win
Anonymous
Digital Quizzers
Aqua Squad
Super Domain Team
Daniel Perna
Sal Kandukuri
Mel Woods
Kylie
Mahsa Homayounfard
A Murder Of Cro's
Stephen Mclay
Anonymous
Shae Miller
Victoria Simmonds-ginn
Jacklyn Francomb
Qsuper
Annie
Emily Milligan
Anonymous
Team Pt
Service Delivery Super Stars
Team Gream
Evelyn Athey
Super Troopers
Wolverines
The Avengers Team
The Quizzards
Ash A
Tracey Shield
Hannah Pourzinal
Ithering Blidiots
The Enhancers
Luke Caruana
Joyce Sephton
Callan Rankine
Oeo Knights
The Clueless Collective
Anonymous
Anonymous
Anupama Konda
Anonymous